Lynn Rosenblatt
CONNECTICUT SCHOOL TEACHER & AUTHOR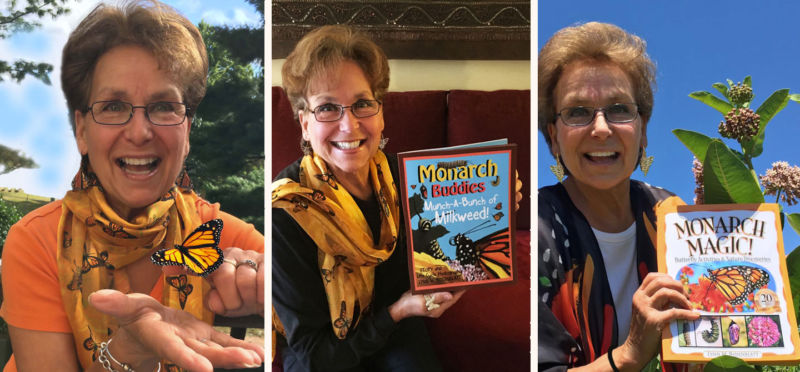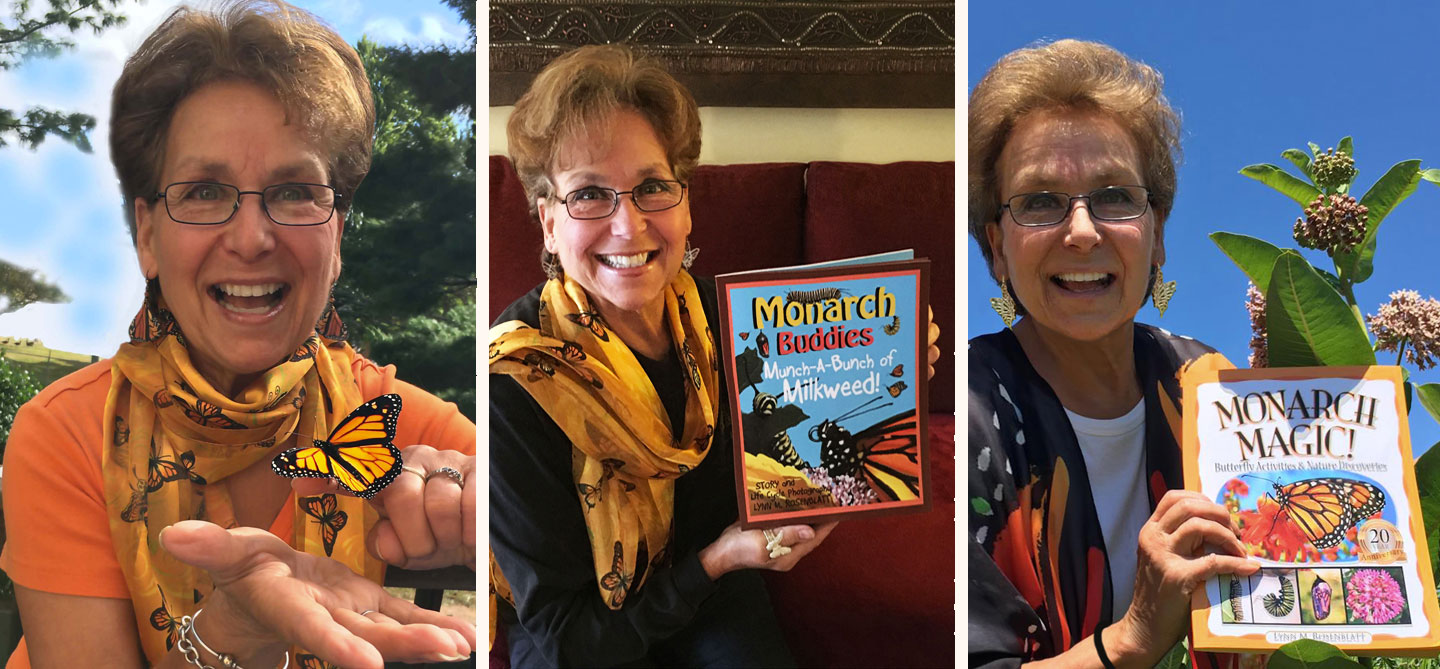 Music, Art and Nature – the magical 'glue' that links learning to the mind and soul!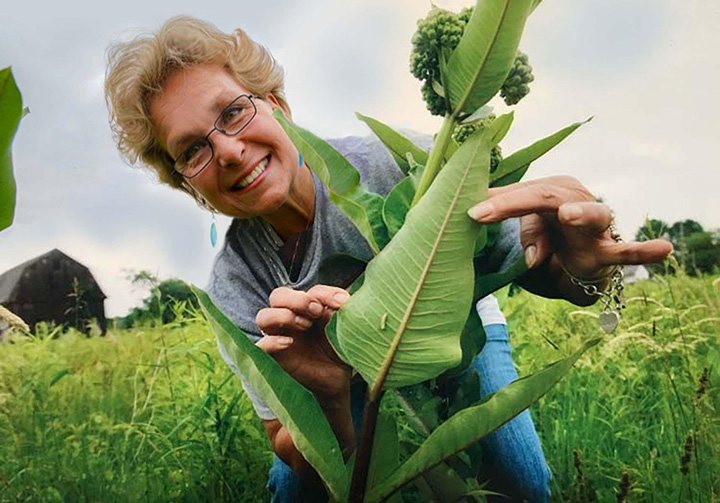 Connecticut teacher and author LYNN ROSENBLATT devoted twenty-five years to teaching energetic and spontaneous first and second grade children. She empowered students through a global teaching approach and welcomed student creativity and spontaneity.
Her books celebrate Nature, Music and the Arts!
Author speaks at Rededication of
1st Butterfly House in CT
Webster Hill has become known in West Hartford as the "butterfly school" for the past quarter century, so important to the school's mission that the monarch butterfly has been incorporated into the logo and even became part of the building's architecture when an addition was built in the late 1990s. Read the article.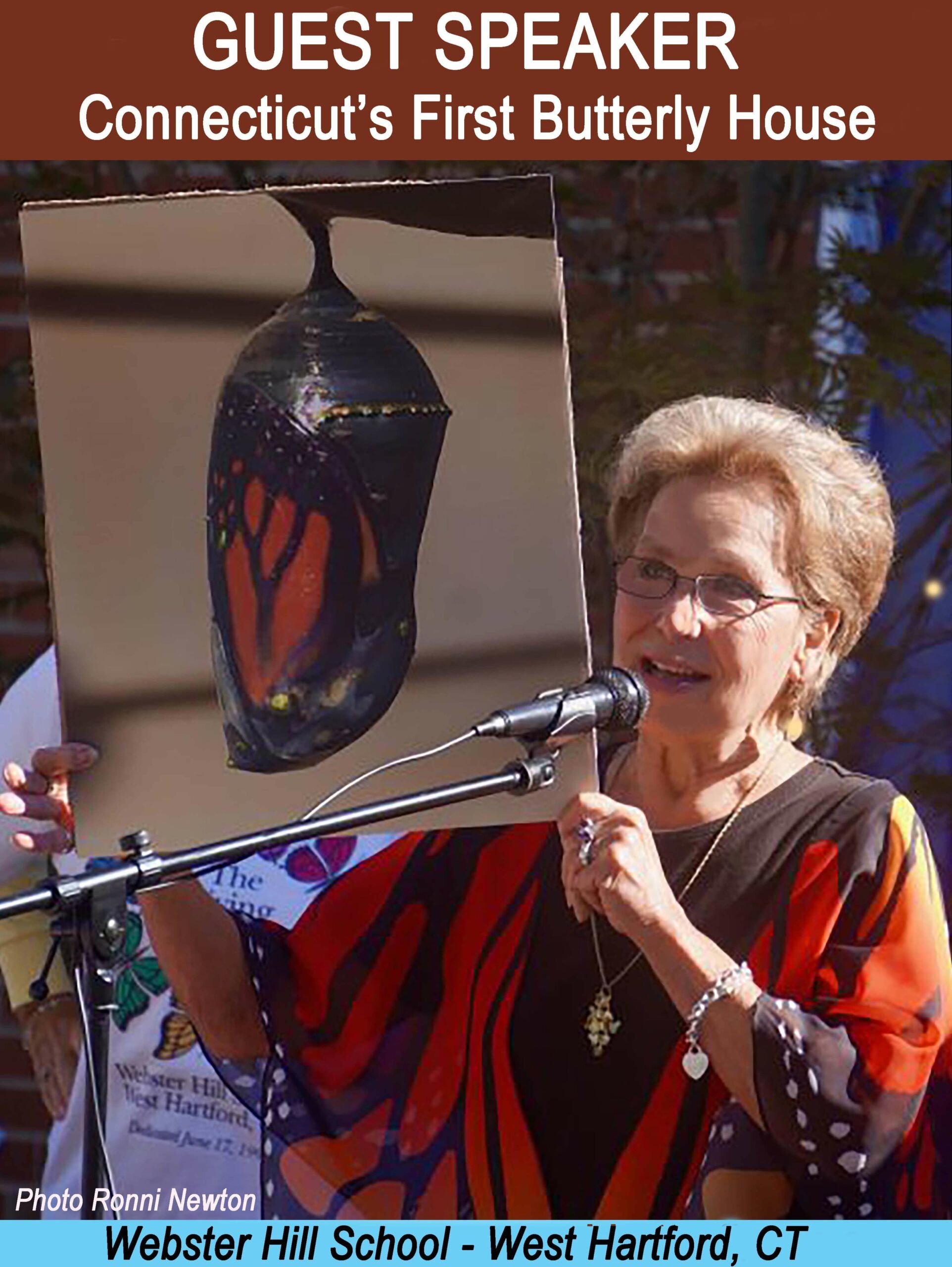 MILKWEED Across America!
POM POM Paradise!
Welcome to the World of MILKWEED – The HOST PLANT for the Monarch Butterfly! It's truly POM POM Paradise! Over 100 Extraordinary photos highlight The LIFE CYCLE of COMMON MILKWEED and 25 MAGNIFICENT SPECIES of MILKWEED! You will experience the year round beauty from Spring through Winter ~ a paradise of floral POM POMS, then bursting Seed PODS and Seed PUFFS in the Fall, drifting in the wind to safe destinations ~ just like the Monarch Butterfly! This powerful theme conveys the need for habitat protection and conservation. Two Life Cycles Connected ~ the Monarch and its Host Plant! Without Milkweed, Monarch Butterflies will NOT exist!
"My books are a reflection of my Love for Nature! I personally raised all the characters in my stories, and for the past 25 years, have filmed and collected many photos. My educational goal has always been to engage and inspire children and encourage awareness for protecting the Monarch's Milkweed Habitat. In the midst of all my monarchs, I discovered Woolly Bear eggs on parsley at a garden center and…Voila!…a brand new story was created!! ENJOY!!"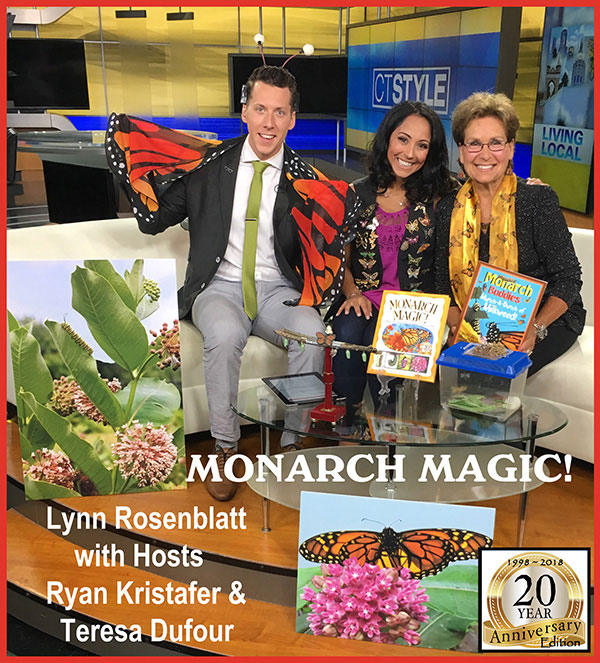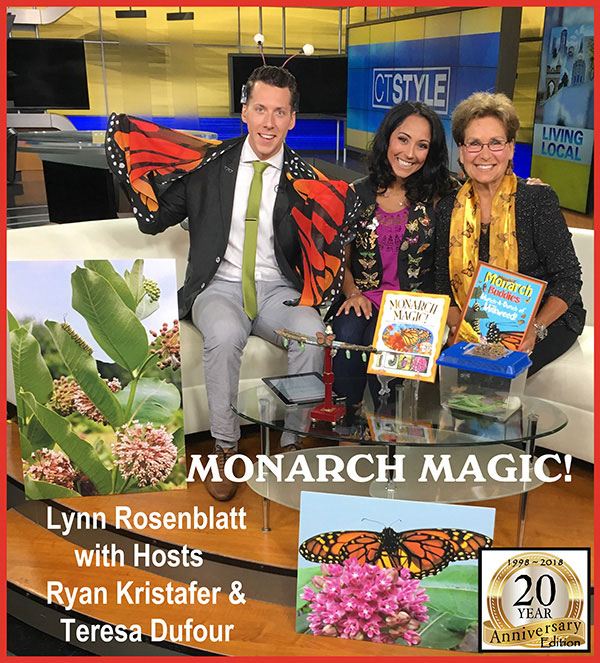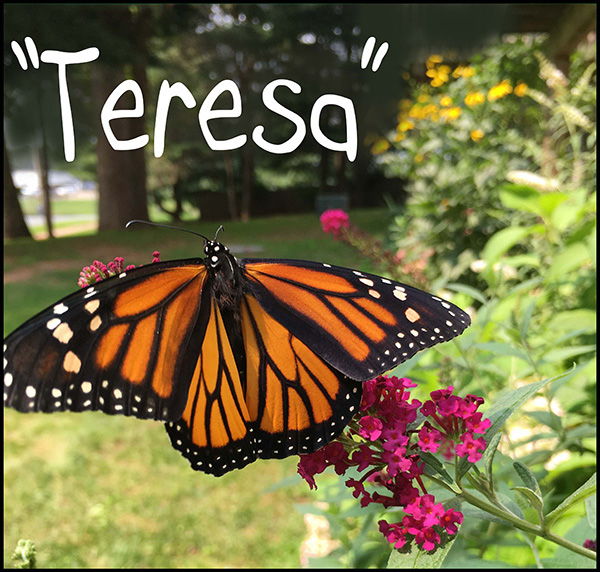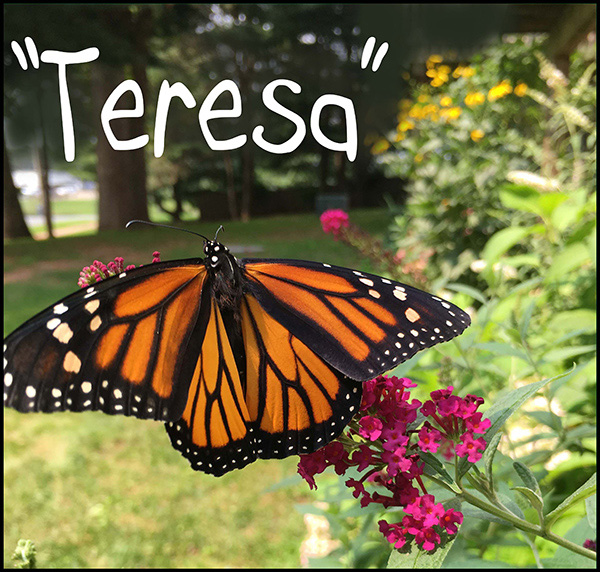 "What FUN it was ~ LIVE broadcasting on the television set of CT STYLE – Hosts Ryan Kristafer and Teresa Dufour welcomed me with "Open Wings!" Spontaneity and concise dialogue are necessities … unfortunately, time ran out and I wanted to highlight the "behind the scenes" story of MONARCH BUDDIES to the importance of the Anniversary Edition. It was an original story to be published back in 1996, but was then converted to the scientific text of MONARCH MAGIC, published in 1998! I revived the story in 2016 and MONARCH BUDDIES is available as the companion book to MONARCH MAGIC! … The DYNAMIC DUO for teaching!!" FYI ~ the caterpillar in the cage on set had grown up! ~ IT'S A GIRL ~ named after TERESA!
MONARCH BUDDIES
Munch-A-Bunch of Milkweed
Lynn's latest book is the revival of an original story, "Butterfly Buddies" – the framework for her award winning book MONARCH MAGIC. Follow along as MAX and MAISY and their monarch mentor, Montgomery take the reader through an engaging tale of friendship and discovery.
Their story shares their adventures as they munch and crunch milkweed, experience complete metamorphosis, life cycle changes and embark on a quest for survival. Soon they have WINGS ~ beautiful WINGS ~ soaring into the sky, leaving a lasting impression of human impact on the environment and how their future is in OUR hands! With hope in their hearts for a safe tomorrow, they will always remember their joyful days in the milkweed fields, and forever in their hearts they will always be…MONARCH BUDDIES!
MONARCH MAGIC
Butterfly Activities & Nature Discoveries
Lynn's first book, now in its second edition, is an award winning educational resource for preserving the habitat of the monarch butterfly. As a resource and educational impact, it reached across the United States and remained a constant since 1998.
This website is a companion to the book, delivering a learning and discovery experience for curious young minds with photos of Monarch Butterflies, life cycle facts, Milkweed and Nectar "WAYSTATION" gardening, migration, educational sites, resource links to milkweed seeds, a curriculum resource guide for teachers, and information on the discovery of the Monarch's over-wintering site in Mexico.
Monarch Magic's resource information and educational impact has reached across the United States and has remained a constant since 1998.
Learn more about Lynn's other books, videos and music at her author website at www.lynnrosenblattbooks.com.